Residential Air Duct Cleaning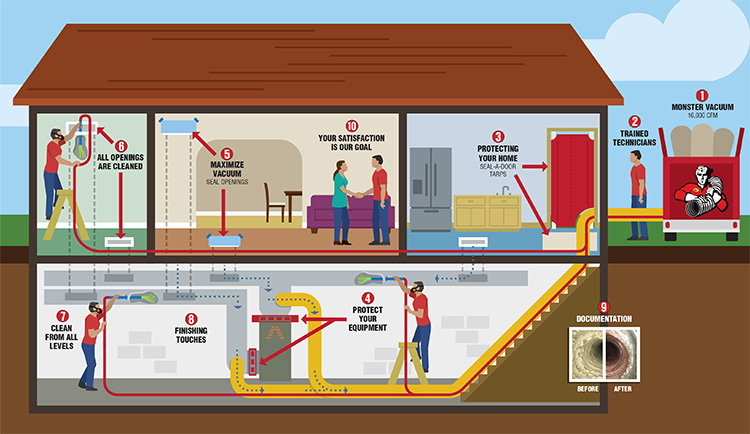 Since we began VacMan in May 1995, we have continued to grow with our original purpose in mind, to provide homeowners with the Best Air Duct Cleaning possible.
For over 20 years, we have served families of Northern Indiana from Fort Wayne to South Bend, Michigan City to Culver, with the best possible air duct and dryer vent cleaning services.
Air duct cleaning is not the end all answer to indoor air quality but is a very important piece to the puzzle. Whether you have extensive knowledge of indoor air quality or you're just curious about air duct cleaning in general, we would encourage you to read our reviews about the experiences others have had when hiring VacMan.
"VacMan does a thorough job."
"I believe his equipment does better than the traditional equipment out there."
"Great family run business."
"Trustworthy."
"I moved away for 10 years and was happy to know when I returned he was still around to get my ducts cleaned."
VacMan has thousands (literally) of satisfied customers, and most would say that our deep cleaning process makes a difference. We document the process by taking before and after photos along with video when possible. When we finish a job, our customers love to see the difference VacMan has made to the cleanliness of the air they are breathing. Won't you let VacMan help you and your family breathe cleaner air today?
Dryer Vent Cleaning and Installation
To VacMan it is not "just a dryer vent." Installing the right material and cleaning dryer vents correctly is of the utmost importance. Dryers can cause fires and eat up your valuable time as you dry a load of laundry again and again. We follow Fire-Safe procedures that meet or exceed Indiana state codes.
If you think about it, your dryer vent is actually a flue (or a chimney) for your clothes dryer. It's similar to the flue for your natural gas furnace or hot water heater which have stringent codes and procedures to follow for installation and require an independent inspection for your safety.
The facts are harmful contaminates are in your dryer duct work and there is a possibility of a home fire caused by lint filled dryer vents. FEMA states that between 2008-2010 an average of 2,900 clothes dryer fires in residential homes were reported to fire departments each year. In each of those years five people died, 100 people were injured, and property damage totaled 35 million.
At VacMan we choose to focus on the benefits we can provide through our superior processes. We care for the safety of each homeowner that entrusts us with taking care of their dryer vent maintenance needs. Each technician at VacMan is either C-DET (Certified Dryer Exhaust Technician) certified or in the process of certification. The National Chimney Institute of America facilitates both the training and certification of C-DET.
Lastly, not all dryer vent cleanings are the same. We find that most dryer vents need to be cleaned from both sides of the system, where it terminates outside and at the back of the clothes dryer itself. Beware of any company that assures you they can completely clean the vent from the outside. As with our air duct cleaning service, we take before and after pictures of the inside of each dryer vent so you can see the difference VacMan has made to the safety of your home. We also take an air flow reading of the dryer vent to help assess the frequency of future cleanings.
When it comes to protecting your family and the investment of your home… choose a company with: The Right Team… using The Right Equipment… that clean for The Right Reasons

Remember, "If it's in your dryer… it could cause a fire!" so call "The Team you can Trust"